First Frost by Jennifer Estep
Mythos Academy 0.5
Kensington Books – July 1, 2011
30 pages – Young Adult, Urban Fantasy
Twitter: @Jennifer_Estep
Facebook: yes
Source: Amazon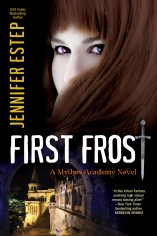 Summary from Goodreads:
I am Gwen Frost, and I have a Gypsy gift. It's called psychometry - that's a fancy way of saying that I see images in my head and get flashes of other people's memories off almost everything I touch, even guys.
My gift makes me kind of nosy. Okay, okay, maybe a lot nosy--to the point of obsession sometimes. I want to know everything about everyone around me. But even I don't want to know the secrets my friend Paige is hiding or the terrible loss that will send me to a new school - Mythos Academy, where the teachers aren't preparing us for the SATs, but to battle Reapers of Chaos. Now I have no friends and no idea how my gift fits in with all these warrior whiz kids. The only thing I do know is that my life is never, ever going to be the same. . .
This has been sitting on my kindle for a while now, and since I was going to begin this series I thought that I would start with this. I am glad that I did. I guess that I would have been fine without reading it, but there is something about reading events as they happen and not as a reflection or memory. I don't know much about psychometry or gypsies, but I am definitely intrigued. I like Gwen immediately, and that may have to do with the fact that she really is kind of special. She's nosey and that kind of gets the ball rolling with the events that happen in First Frost – how she learns Paige's secret. Don't think she knew that would be the thing that changes her life forever. She wanted to do the right thing and it came at a price. A price that even Gwen is sure she would have knowingly paid. I'm sure this is a lesson that will come into play many times for her. It was a nice quick read, and a great way to get started in the series.
What's Next? Touch of Frost
4 Stars ****