I Hunt killers by Barry Lyga
Book #1
Little Brown Books for Young Readers – April 3, 2012
368 pages – Young Adult, Fiction, Mystery/Thriller. Crime
Facebook: yes
Twitter: @barrylyga
Source: Louisville Free Public Library
Reason for Reading: Personal Choice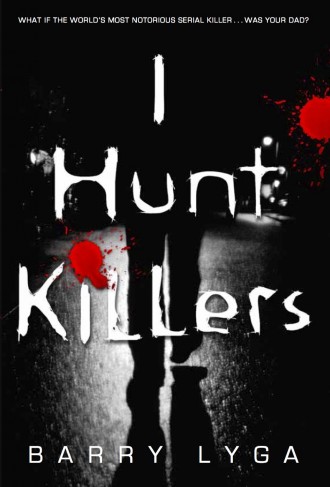 Goodreads Summary:
What if the world's worst serial killer...was your dad?
Jasper "Jazz" Dent is a likable teenager. A charmer, one might say.
But he's also the son of the world's most infamous serial killer, and for Dear Old Dad, Take Your Son to Work Day was year-round. Jazz has witnessed crime scenes the way cops wish they could—from the criminal's point of view.
And now bodies are piling up in Lobo's Nod.
In an effort to clear his name, Jazz joins the police in a hunt for a new serial killer. But Jazz has a secret—could he be more like his father than anyone knows?
My thoughts:
This book was dark and creepy just the way that I like it. I am a huge fan of crime thrillers. I am also a huge fan of books that approach the same theme/idea differently. So that makes me a huge fan of I Hunt Killers. It is incredibly hard to accurately get inside the head of a serial killer, especially when done so for the sake of fiction entertainment. There is this dance for the balance of fact/believability and entertainment/creativity. Lyga has successfully manages to keep the balance and this resulted in an amazing book!
There are a billion (yes, I may be exaggerating a bit here) kids that are born to serial killers today. Some even grow up with said serial killers as an active parent . That is the beauty and horror of the psychology of a serial killer-their ability to blend into society so seamlessly that when their identity is revealed everyone is shocked. They are shocked not only because of the monstrosity of the killer but at their inability to see through the façade that the killer puts on.
I Hunt Killers is about so much more than a book about finding a murderer. Jazz Dent not only walks in the shadow of his serial killer dad, he also lives in the shadow of his dark lessons. Most can't wait for their family inheritance, but jAzz would like nothing more than to get rid of his. Until he realizes tat his dad's education gives him the opportunity to get inside the head of a killer that is using Lobo's Nod as his hunting ground. Jazz has an innate desire to protect his town.
Granted, it is not likely that a teenager, especially an emotionally disturbed one, will be given an active role in a homicide investigation. It is good to see that Jazz has used all of his dark instincts for the right side of the law. I enjoyed the tension throughout the book. Lyga uses the truth that a serial killer can be just about anyone to his advantage and pushes it up a notch. Enough that it makes interacting with the characters slightly uncomfortable.
Not only is the idea unique and executed successfully, the entire cast of characters are liable dipped in believability. The Sheriff, G. William wears the weariness of the investigation thickly and accurately. Investigating serial killers is only exciting in books and on television. In reality, it's tiring both mentally and physically – especially when dealing with an organized killer. There was enough shadow cast on Deputy Erickson that either outcome is acceptable. Howie, the humorous sidekick and Connie, the tough-loving and loyal girlfriend, both adds he human element back into a hideous story and Jazz's life.
Jazz, the embodiment of both dark and light, was an excellent main character. His choice to not be a serial killer is the truth beneath all of the murdered bodies we bury every day. Being a serial killer is, simply put, a choice people make.
Recommendation: if you have not read this yet, you must! It is the safest way to get into the mind of a killer.
What's next? Game
5 Stars *****
A 2012 favorite
Always Shine,
Starr K